We're about to embark on an epic journey through the virtual pipelines of the internet to discover the best examples of web design for plumbers.
In the digital age, a stunning website isn't just a luxury; it's a necessity to help you grow your business and generate more leans. And here at Acozz Design, we're here to show you why. This is why we collected the Top 5 examples of the best plumbing websites designs that are turning wrenches and turning heads!
Site 1 – Plumr: Plumbers South London | Plumbing & Heating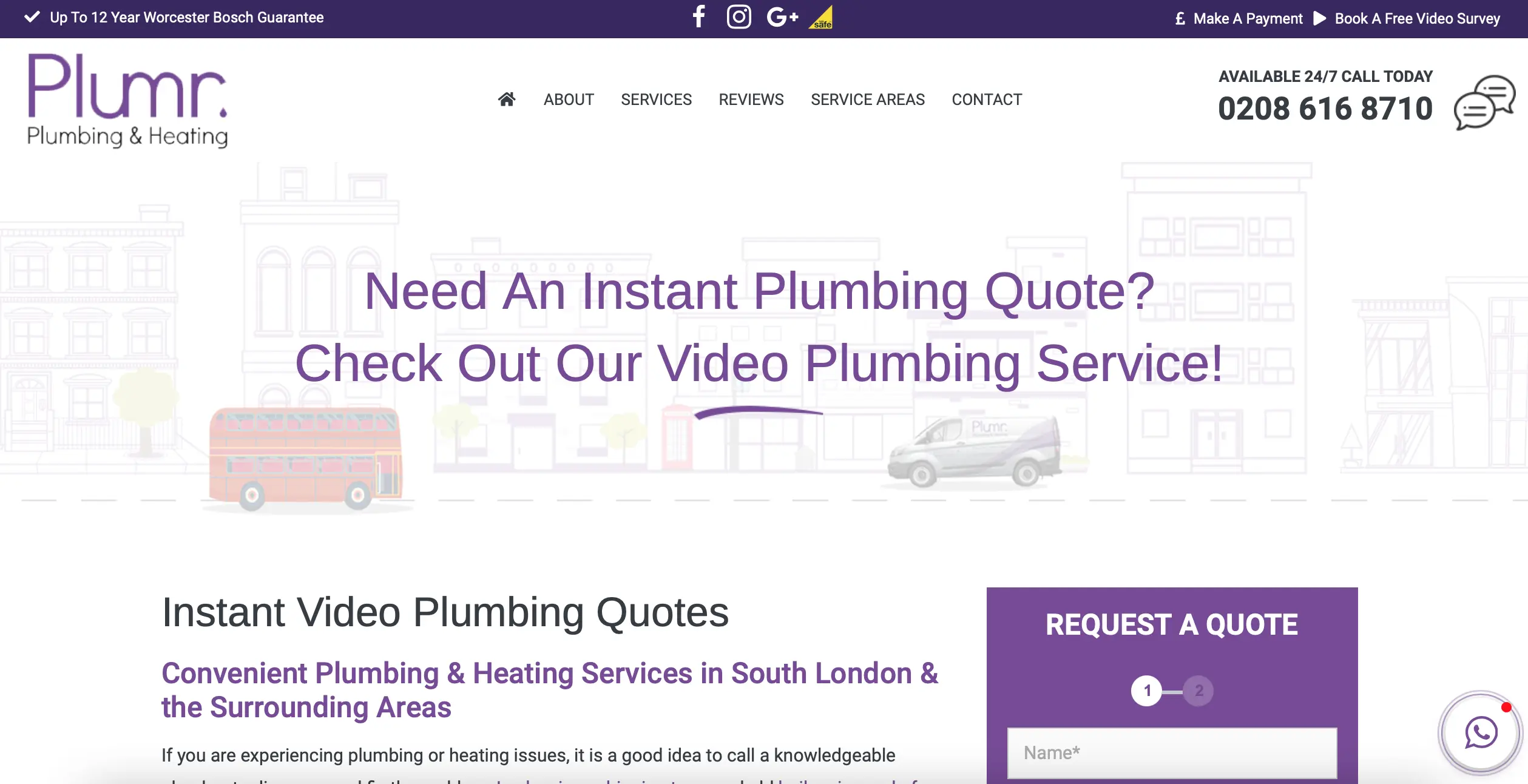 Plumr is a standout in the world of plumbing web design for its exceptional user-focused features. Plumr offers a live video option, enabling real-time visual consultations with plumbing experts—a personal touch that builds trust and ensures accurate assessments. The integration of WhatsApp chat and traditional contact forms ensures seamless communication for customers, showcasing Plumr.co.uk as a beacon of convenience and innovation in the plumbing industry.
In a world where customers value efficiency and ease, Plumr.co.uk stands out as a great inspiration for plumbing professionals aiming to enhance their online presence.
Site 2 – Pimlico | Plumbing, Heating & Electrical Services in London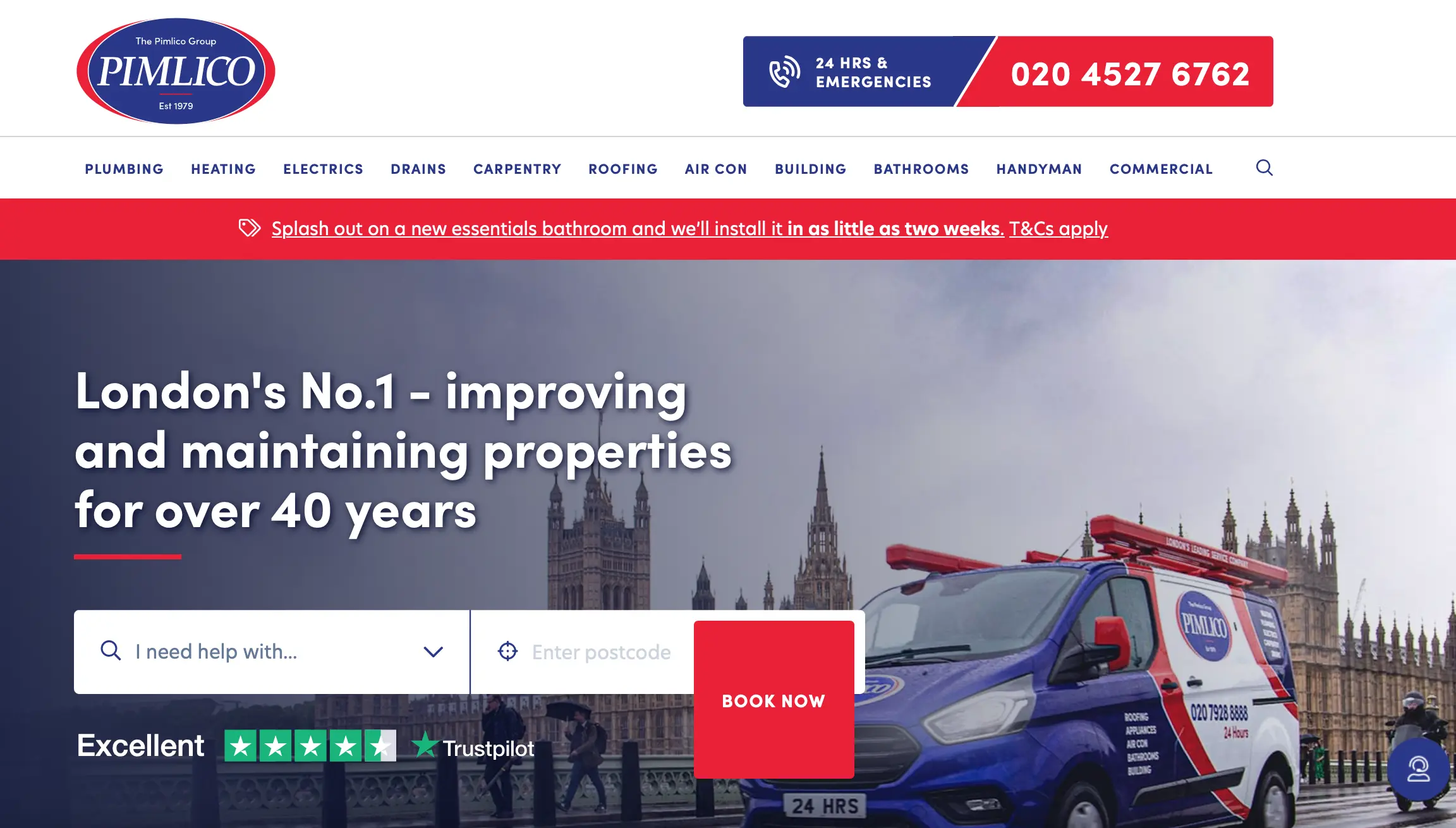 When it comes to plumbing in London, one name towers above the rest—Pimlico Plumbers. Their website sets the gold standard for the industry in multiple ways. What immediately catches the eye is their transparent commitment to customer satisfaction. Right on the homepage, visitors are greeted with Trustpilot reviews, showcasing the company's dedication to quality and reliability. These authentic testimonials instill trust and confidence in potential customers, demonstrating Pimlico Plumbers' commitment to excellence.
Pimlico Plumbers understands the importance of swift action in plumbing emergencies. Their website features a prominently placed and user-friendly call-to-action button that allows customers to quickly communicate their needs with a large text box. This seamless access to services ensures that customers can get the help they need with just a click, further solidifying Pimlico Plumbers' reputation as a trusted plumbing powerhouse in London.
Site 3 – Task Rabbit – Plumbing Services & Repair | Local Plumbers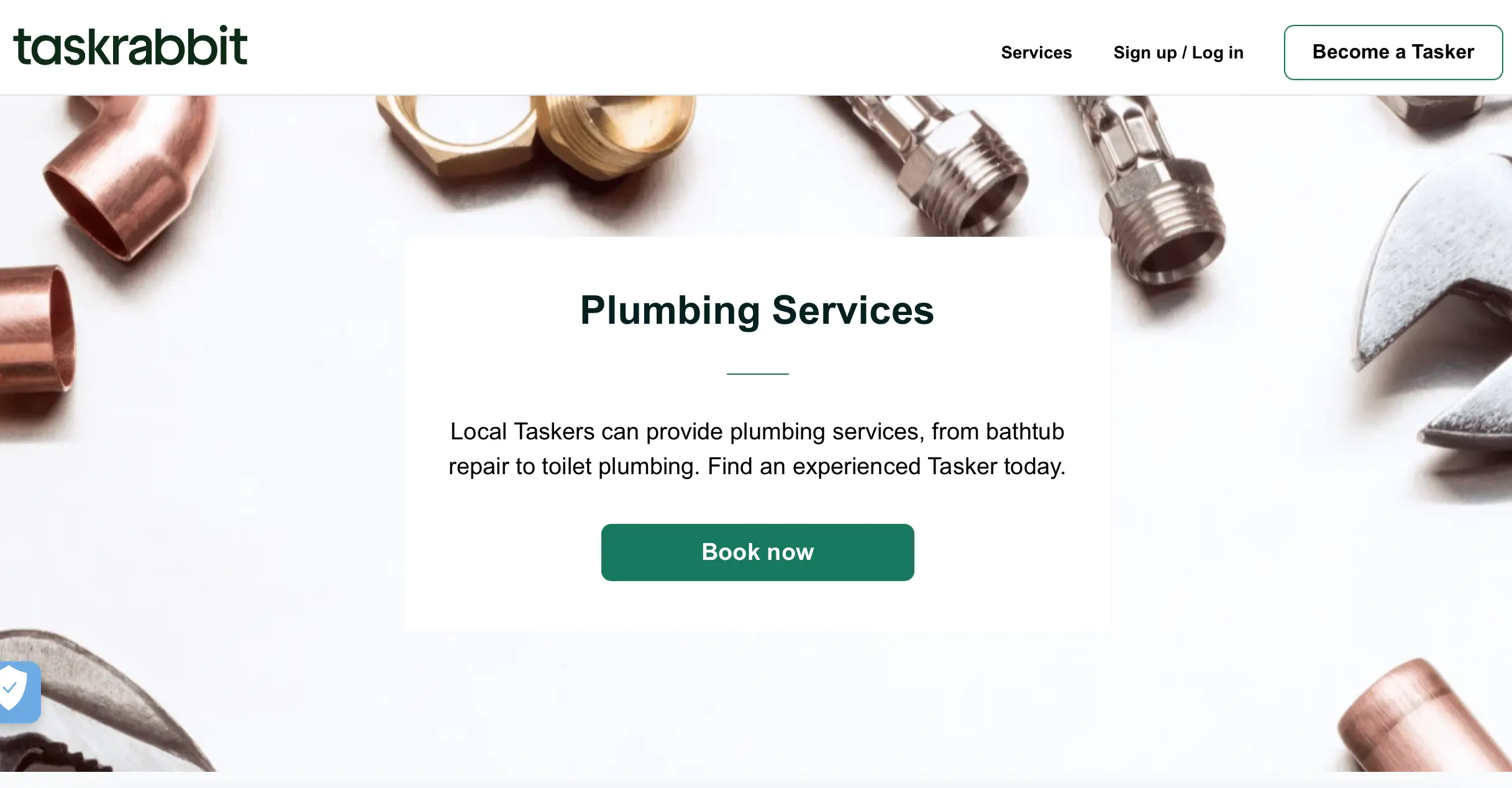 While not exclusively a plumbing website, TaskRabbit is a shining example of streamlining the user experience when it comes to finding plumbing services. What sets this platform apart is its user-centric approach. Visitors can describe their plumbing issues through a user-friendly form, eliminating the need for cumbersome phone calls or inquiries. TaskRabbit's ability to connect users with local plumbers based on their descriptions simplifies the process and offers a hassle-free way to address plumbing problems.
In an age where convenience is paramount, TaskRabbit's commitment to simplifying the plumbing service journey is why we have listed this third on our list. By offering a straightforward platform that effortlessly connects users with local professionals, TaskRabbit showcases how technology can enhance the customer experience and streamline the plumbing service industry.
Site 4 – My Plumber London | Local Plumbing & Heating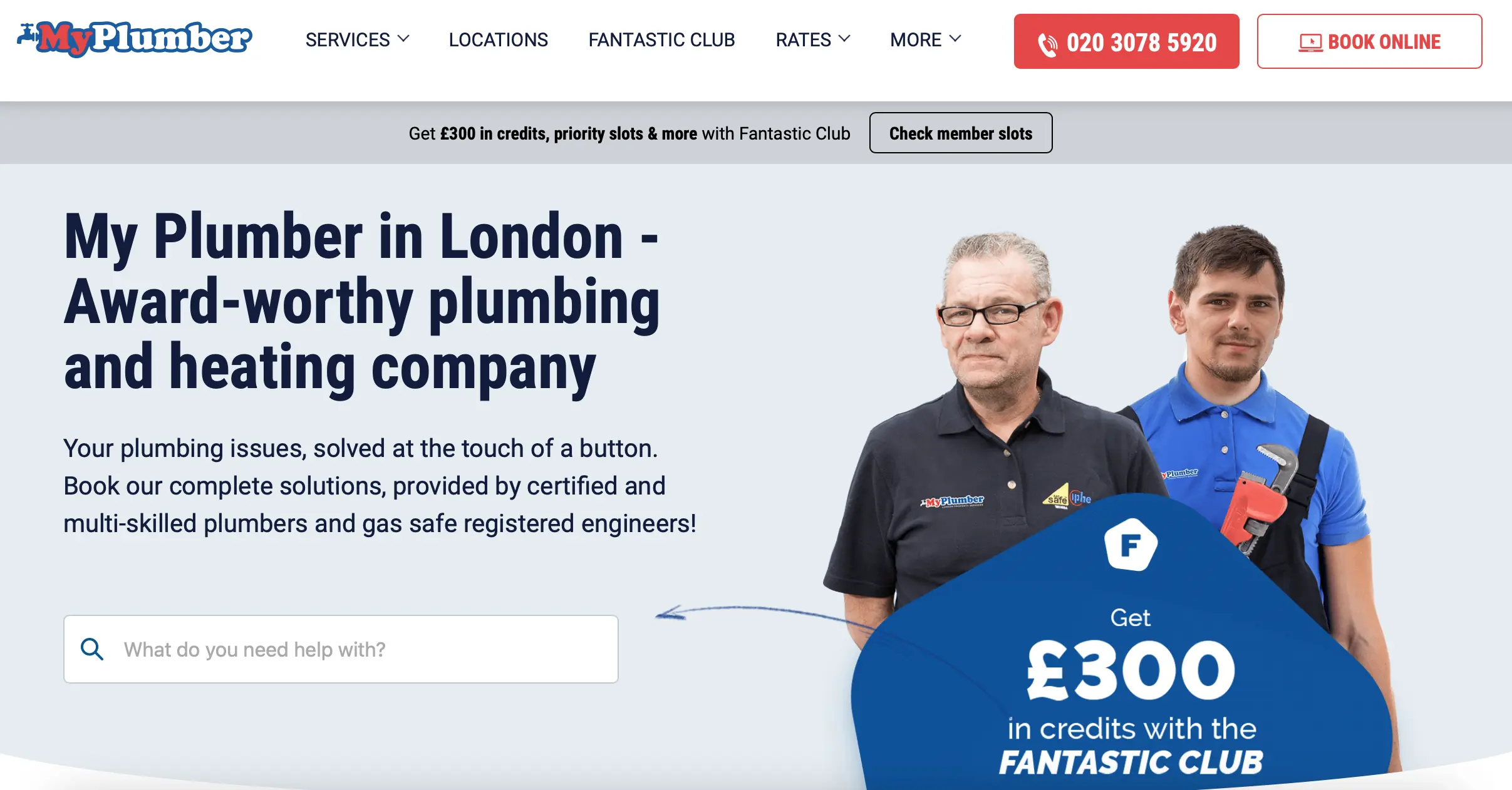 Our fourth website on our list is My Plumber London, where their website shines for several reasons. Firstly, they prioritise transparency by offering upfront cost savings for their "Fantastic Club" membership program, which provides customers with preferential prices and booking slots. This is a unique approach to a subscription based membership program which is one of the reasons we wanted to share this example.
Services are presented in a straightforward and organised manner, making it easy for customers to identify their needs. The strategically placed call-to-action buttons for calling or booking online on the top navigation bar further streamline the user experience, ensuring that customers can quickly take action without any fuss. Whether it's the upfront cost savings or the clear service offerings, My Plumber London's website is a shining example of how plumbing businesses can effectively communicate and serve their customers.
Site 5 – Aspect – Plumbing Solutions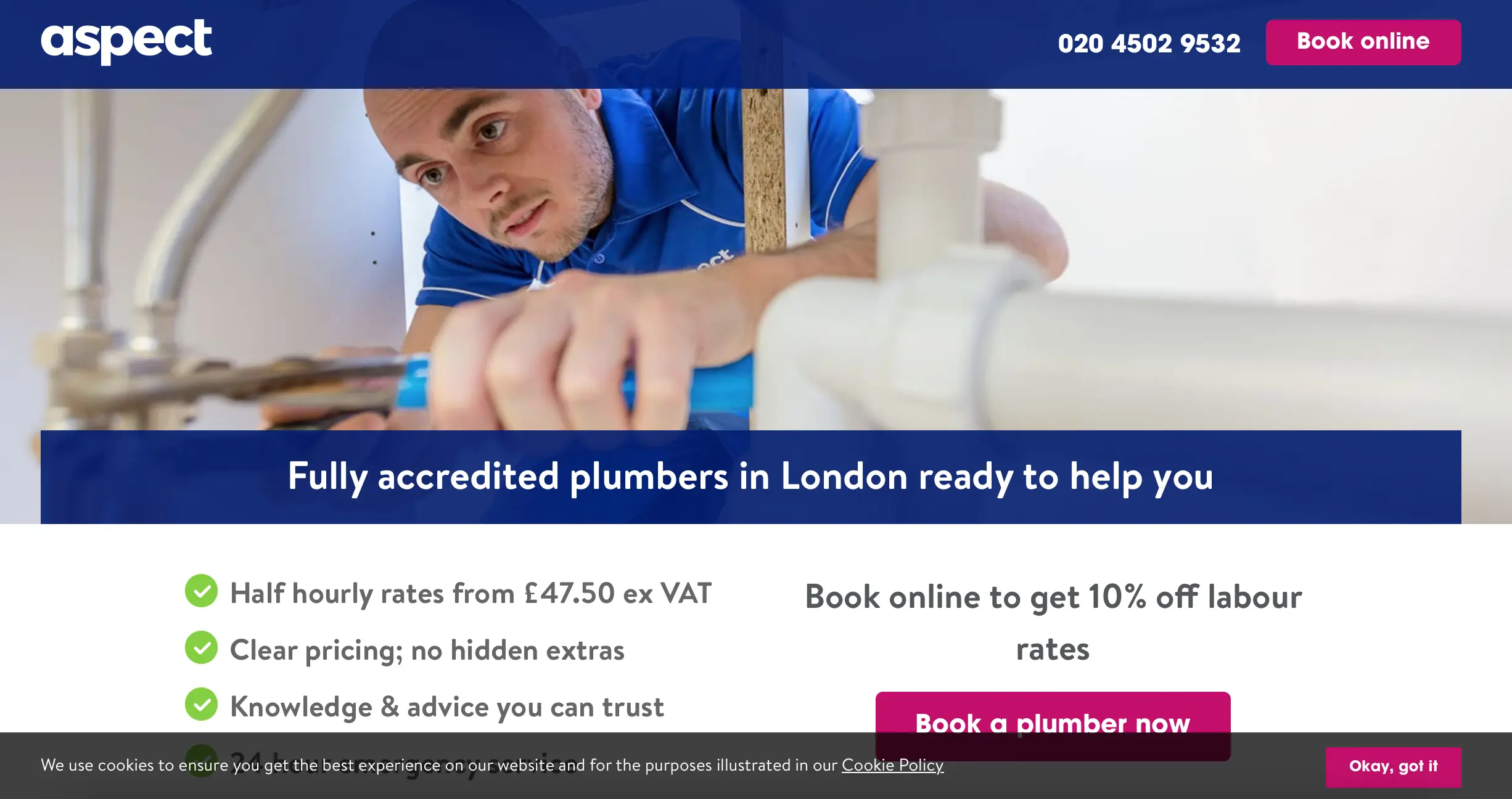 Aspect's website may be straightforward, but it excels in crucial areas. Their upfront pricing policy offers customers transparency, ensuring they know the cost upfront. Furthermore, by prominently displaying their plumbers' accreditations, Aspect instills trust and confidence in their customers, demonstrating their unwavering dedication to service quality.
But why we added Aspect for our 5th and final website is their effective SEO strategy. Their Google page title, "Plumber Available Now – Instant Response – Book Online," perfectly captures the essence of their services, emphasising their ability to provide instant responses for their customers. Aspect's website may be simple, but it packs a punch in terms of transparency, accreditation, and SEO excellence, setting a high standard for plumbing businesses in the digital age.
Plumbing Web Design Examples: 5 Unique Approaches for a Thriving Online Presence
As a summary, please find what makes each site different and what our standout feature is.
Plumr.co.uk – Real-time video consultations.
Pimlico Plumbers – Customer (Trustpilot) Reviews.
TaskRabbit – Connects users with local plumbers through a user-friendly form.
My Plumber London – Innovative cost-saving membership and user-friendly service listings.
Aspect – Stands out with transparent pricing and strong SEO optimisation.
How A Plumber Web Design Agency Can Grow Your Plumbing Business With a Great Plumbing Website
Are you eagerly searching for ways to bring in more customers from your website and get that competitive edge over other plumbers in your area?
In today's digital age, having a strong online presence is essential for plumbers looking to grow their businesses. Your website acts as your digital storefront, and it plays a crucial role in attracting potential customers and showcase your plumbing services.
But how can you make your plumbing website work harder for you? Let's explore some strategies to supercharge your online presence and boost leads.
1. Harness the Power of Customer Reviews For Your Plumber Website
Do reviews help a plumber website? Absolutely! Customer reviews are like gold in the world of online marketing. Positive reviews build trust and credibility, which are essential for attracting new customers. Encourage your satisfied clients to leave reviews on your website or popular review platforms. Showcase these testimonials prominently on your site to give potential customers confidence in your services.
2. Seek Website Design Inspiration From Your Competitors
Feeling stuck with your current website design? Sometimes, a fresh look can do wonders. Seek inspiration from plumbing websites that are doing it right with our 6 examples at the start of this blog post. Analyse what works well on their sites and adapt those strategies to your own. Remember, your website should reflect your unique brand and services while also appealing to your target audience.
3. Optimise Your Web Design For Lead Generation
Your website should be designed to convert visitors into leads. Ensure that your contact information is easily accessible, and consider adding a clear call-to-action (CTA) on each page. Offer valuable resources like ebooks, guides, or free consultations in exchange for visitors' contact details. This not only provides value to your audience but also helps you capture leads for future follow-up.
4. Calculate the Cost of a New Plumbing Website With a Fresh Design for Plumbers
One of the most common questions among plumbers is, "How much does a new website design for plumbers cost?" The answer varies depending on your specific needs and goals. At Acozz Design, we offer affordable web design packages starting at just £60 per month. Our transparent pricing ensures there are no hidden costs, making it easier for you to budget for your new website.
Your plumbing website can be a powerful tool for attracting customers and gaining a competitive edge. By harnessing the power of customer reviews, effective design and SEO (search engine optimisation), optimising for lead generation, and exploring cost-effective web design solutions, you can elevate your online presence and drive more leads to your plumbing business.
Ready to take the next step? Contact us today to explore how our web design services can transform your plumbing website into a lead-generating powerhouse – create a plumbing website today!